UNARMED SECURITY SERVICES IN CHICAGO, IL
Have you thought about security services for your establishment or business? Our unarmed security officers are ready to protect your commercial or residential properties in Chicago, IL, or anywhere throughout the Midwest region. We provide security guard services to address client security concerns, no matter the type of business or facility.
With over thirty years in business, American has the operational expertise and resources to properly secure any client need. Whether an apartment building, a warehouse, or an industrial facility, American can provide the security services you deserve.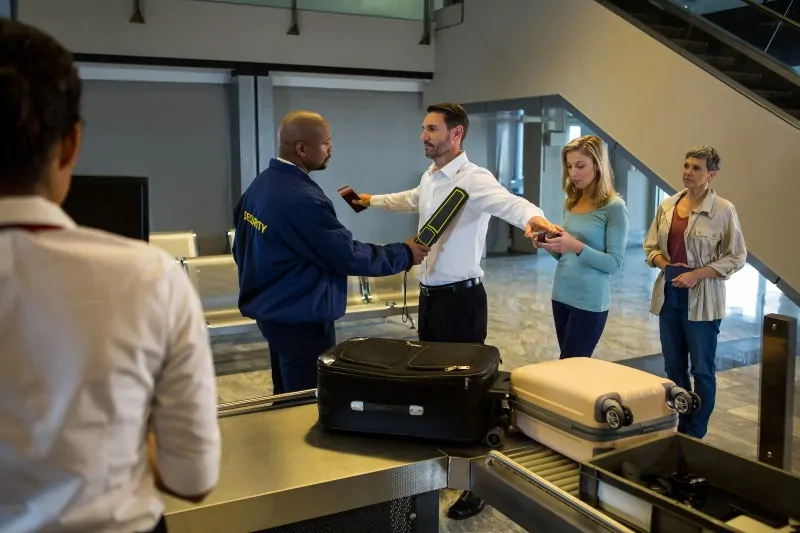 As a full-service security company, American can provide a variety of security guards. While some clients may prefer armed security guards, many security issues are easily addressed using unarmed security services. The typical benefits of security guards include:
Regardless of whether you choose armed or unarmed personnel, the sight of professional, uniformed security officers goes a long way towards maximizing safety and security of your property and personnel.
INCIDENT DE-ESCALATION AND REPORTING
We instruct our officers to use verbal de-escalation techniques whenever possible to minimize the risk of injury to personnel. In an era of escalating threat of confrontation, effective security guard services must include this critical skill.
Our officers write daily or periodic reports as desired by the client, giving you insight into how our services are performed. Additionally, following an incident, guards will submit electronic incident reports that are easily viewed by the client.
While some clients may wish for a static guard, others may benefit from having their security officers conduct routine foot patrols. This especially beneficial for clients with large or complex properties, where our officers can check for trespassers, monitor for safety situations and increase the scope of visible deterrence.
Allowing the right people onto the property – and keeping the wrong ones out – is critical to ensuring the safety of our clients. As part of our security services, guards can screen visitors, conduct personnel checks and verify that access points are kept secure.
Through training and selection, we provide security guards with professionalism, reliability and attention to detail. Our security officers are screened for suitability at each client location, as we understand security is often a part of your own team.
No security company is the same as another, which means no security guards are the same as others. Make sure you choose the right one!
We offer the latest in mobile technology to ensure your assigned officers are on site and providing exceptional guard services. Electronic timekeeping and reporting streamlines engagement between American and the client, minimizing administrative burden while also enabling real-time access to your security information.
Additionally, we staff a 24/7 Dispatch service so that our guards and clients can always speak to a live person who can coordinate services and provide updates.
WHO BENEFITS FROM AN UNARMED SECURITY GUARD?
Virtually every business or establishment can benefit from some level of security.
Our client needs vary and include retail security, financial and educational institution security, healthcare facility security, government buildings and industrial security, construction site security and manufacturing security.
Our professional management team will work you to develop a tailored solution to your needs.
WHAT KIND OF SERVICES DO I NEED?
For most clients, static unarmed security guards provide a high level of protection. Our customized Post Orders, developed in tandem with the client, address any specific tasks or functions desired. We also offer armed security guard services if a higher level of protection is needed.
We are happy to send our Operations team to walk through your site and help you understand how the services American provides can benefit you and your team.
AMERICAN SECURITY WILL MEET YOUR NEEDS
No matter what type of security needs you have, security guards from American Security will meet and exceed your expectations every time as we protect what you value most.