20-Hour Security Certification
We offer the mandatory 20-hour Security Training Course and 8-hour Security Training Refresher Course at our Forest Park, IL location. The class is taught every Wednesday (every other Wednesday starting 02/22/2023) from 3:45 pm to 8:30 pm. The 20-hour class costs $100, and you must attend two sessions. The 8-hour refresher costs $50, and you only need to attend one session. Payment is due before the start of your first session. We accept cash and all major credit/debit cards.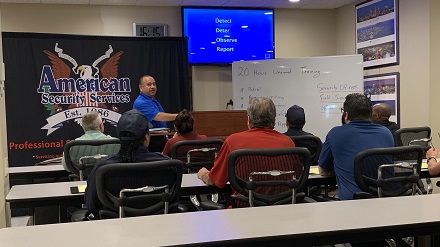 Our Training Course includes a test covering topics such as First Aid, Customer Service, Public Relations, Report Writing, Standard Operating Procedures, etc.
Your class fee covers:
Certified Instructor and certificate upon completion
Job Placement Assistance
$10 refund for every student that you refer.
Free Pizza and coffee during class
Please keep in mind that this is a separate fee from the PERC application.
Bundle Discount
You can receive a $20 discount if you bundle the Livescan fingerprinting, PERC application, and 20-hour class together. Total cost becomes $240, discounted from $260. Offer only valid when you complete all 3 services through our office and pay upfront. We accept cash and all major credit/debit cards.
For a list of upcoming classes/sign up click below: