Services and Mobile Applications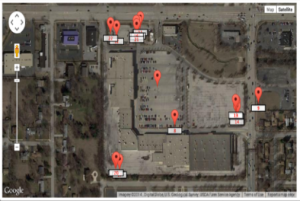 We would like to introduce you to our new Mobile Security Management System (MSMS).  We have combined smartphone technology, 4G data accessibility, and cloud computing into an innovative mobile application which has revolutionized the way American records, shares, organizes and stores client's security information.
Client's and American may remotely access critical information 24-7 in real time.  The below information will describe the benefits of using this system.  In addition, you may also view this short video presentation:  www.youtube.com/watch?v=ohirRLT45c4 or MSMS Video
24-7 cellular and SMS communication
All forms, data, and reports are neat, spell-checked, and securely stored on the cloud so American Security and our clients may access them at any time, from anywhere.
Paperless vehicle, pedestrian, and visitor logs are easily read, organized, archived and retrieved.
Customized incident reports with pull down menu options and photo/video attachments that can be automatically sent to a pre-determined distribution list based on the category or type of incident.
Standard Operating Procedures and notices to officers are updated online to ensure our officers are working with current information.
Our real-time officer tour tracking system helps ensure that our officers are performing comprehensive tours of our client's facility in a timely and accurate manner using GPS technology.
QR codes are strategically positioned throughout client's facility to identify the critical points our officers are to check and instruct them what to monitor.
Officers will report any incidents and generate an electronic incident report.
Our MSMS can generate these additional reports:       
Daily Activity
Pass-down Logs
Incident Analysis
Tour Stops & Exception Reports
Maintenance Reports
Gauge/Temperature Logs
Visitor/Vehicle Logs
Parking Violations
For more details about our services, real time technology or client list and references, Please contact our Business Development Manager at:
708-383-6969